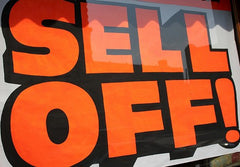 Cue the cash register ―cha-ching! Apparently that's the sound the store app makes when it receives an order. I didn't know this, of course―I had never heard it before. It wasn't until I saw the notification flash across my phone screen that I realized we had, in fac received our first order! Needless to say, I was excited, and I am not the most excitable person. But this order had confirmed that at least one person had a need for the convenience we offer. I immediately called my husband, and then my mom…and then the customer--my aunt (who's really my older cousin, but she's my mom's generation so I call her aunty).
I was grateful, but I can't say I wasn't a little disappointed when I realized it was her. It kind of took a little wind out of my sails; Was she ordering just to show support for her little cousin― in the name of family―and does this mean that I would only receive orders from family members and people who know me? A business could run out of those quickly! So I thanked her for her support and told her that she was our first order. She was surprised, and agreed that the business was a good idea and a good service, and that she'd spread the word.
Cha-Ching! When I heard the second order come in, I grabbed the phone immediately. I had already spoken to the customer, a good friend, and he told me he would be ordering.  Again, I hoped that it was someone else. Don't get me wrong, I was thrilled for his support, especially as he had gotten his co-workers to place orders too; but I was hoping that my client base was not entirely made up of people who know me personally.
The following day, we dutifully delivered both orders. Despite my lingering concerns about our very familiar customer base, I felt a huge sense of accomplishment and relief. It had also occurred to me how grateful I should be that the first two orders were from people who knew me and could vouch for my character. Nevertheless, I wanted to make a good first impression. The two locations were miles apart, and though we made it within the promised delivery slot, we realized just how much time it can take to complete one delivery. The experience was invaluable and will help us to be more efficient in our future deliveries.
So were not yet ecommerce gurus, but If I were to offer any advice to future entrepreneurs based upon my experience thus far, it would be this: Don't be discouraged if you don't immediately get the flood of support you desire. Instead, use the one or two that you may get, so as to fine-tune your service. Also, the customers who know you may be the best to "practice" on. They may be a lot more forgiving than clients who will be taking a chance on you for the first time.
So, at one week in, I want to thank my cousin and my friend for their early patronage, and all the other customers who have ordered thus far. Thank you for taking a chance on us. We look forward to your continued support!
For those of you who have not checked us out as yet, visit www.farmgate-emarket.com and place your first order today.
Feel free to comment, like and share.
Until next week….