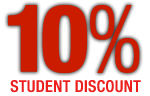 We know it's not easy being a college student. In fact, this might be some of your "brokest" years. But everybody's gotta eat, right? And cooking your own meals often works out to be the most cost effective way to eat and get through each semester if you're a student on a budget. Plus, we know how important good nutrition is in staying focused and being able to learn and pay attention--we wouldn't want you to skimp of your fruits and veggies. That's why we're extending a 10% off discount to all current students between the ages of 17-25 years on every qualifying order (a minimum of $700 is required for checkout).
Your discount will be applied upon the production of a valid student college/tertiary ID. You may do so by signing up for an account with us and using a picture of your student ID as your avatar, or by emailing us a picture with your ID at info@farmgate-emarket.com. Please ensure that your name, date of birth, expiration date and name of the institution is legible. Once verified, a 10% discount will be applied to all orders placed through your account. Restriction: ONLY one discount can be applied per order.
Get started by signing up here for your account.
Farmgate Team